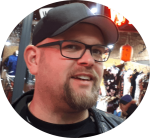 About Me
• BENJAMIN KOHLSTADT • SEARCH ENGINE OPTIMIZER • BASED IN BERLIN •
As a dedicated search marketer with passion for new technologies and digital trends, I've developed an extensive understanding of Search Engine Optimization, Online Marketing and Web Analytics.
I also have a high level of understanding of the technical aspects of websites and their effects on SEO, usability and ultimately conversions. As SEO expert with a proven track record I help brands build a strong presence across search engines.
With over 17 years experience in website management and more than 11 years experience in SEO and Online Marketing for international companies, I build data-driven SEO strategies customized to each individual industry and website.
In my role as SEO manager I provide experience and knowledge in SEO across all departments of the company and within my team. I am an organized, analytical, data driven, creative problem solver and team player.
Why Work With Me
SEO • STRATEGY • RESULTS
What I can do for your business, either startup or company in growth-stage, is to find the right strategy: As a commercial SEO strategist, I bring in-depth research and analytical skills combined with Technical SEO knowledge and communication skills, gained from extensive experience in various business models and diverse e-business revenue models.
SEO Strategy, Training & Consulting
On- & Off-Page Optimization
International & Multilingual SEO
Video SEO & App Store Optimization
Experience
COMPANIES I WORK(ED) FOR






COMPANIES I SUPPORTED





Types of websites & Business models
INTERNATIONAL • NATIONAL
Professional support for all types of websites, with focus on large-scale websites of international operating businesses.